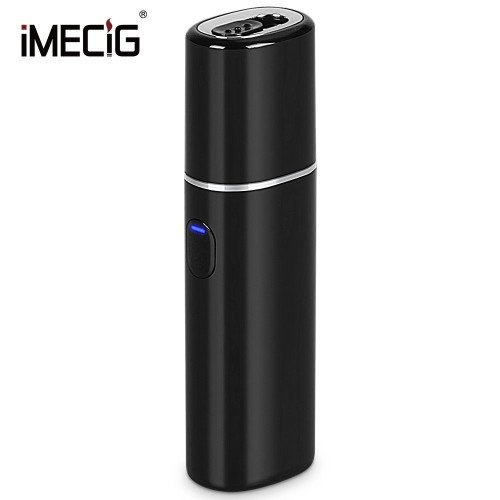 IMECIG L1 Electronic Cigarettes Starter Kit Compatible with IQOS 2200mAh Rechargeable Battery 30 seconds Preheating Vibration Type Automatic Clean (Black)
Product Specification :

| | |
| --- | --- |
| Brand: | iMECiG |
| Model Name: | IMECIG L1IQOS BK |
| Availability: | In Stock |
| Compatible Printer List | Save 10% on below products when you purchase 1 or more G3 electronic cigarette to enter code DDKL5R4J. |
| Page Yield | G3 original 1.0 ohm coil |
| Model Number | G3 E Shisha Vape pen Rechargeable Battery |
| Compatibility List | G3 original 1.2 ohm coil |
| five | 5 Pack x 10ml Ice Mixing Fruit Flavours E juice |
---
◆ Heating time with a constant temperature heating bar 260 seconds ◆ This product adopts an advanced conical heater, it can heat the tobacco leaves 360 ° in all directions uniformly, Ichos compatibility feels the original clear taste with no taste It is goods. In addition, it is a low temperature non-combustible constant temperature heating bar, applicable to Marlboro / HEETS series cartridges, and can enjoy electronic cigarette stably with heating time of 260 seconds.
◆ Up to 22 consecutive aspirations with large capacity internal battery ◆ 2200 mAh large capacity battery built into the main body, once about 18-22 can be enjoyed with full charge. You can satisfy your daily needs. Please note: The number of puffs to suck is different from usage frequency and situation.
◆ Easy operation with vibration type ◆ There is only one button attached, complicated operation and setting. ON / OFF Power status: Press the button 3 times quickly for 2 seconds, the green LED light turns on, the red LED light turns off. Easy to operate LED integrated button, even beginners of heated cigarettes can use it comfortably.
◆ Automatic Cleaning Function and Various Protection Functions ◆ The automatic cleaning function is mounted on the main unit, so that you can keep the cleanliness without trouble. In addition, various protection functions such as high temperature protection, short circuit protection, low pressure protection, overcharge protection, over suction protection, etc. are installed, and we protect important heating type electronic cigarette.
◆ Reliable reliability ◆ Before use, please read the Japanese instruction manual carefully and use the heating type electronic cigarette accurately. If there are uncertainties or quality problems on the product, please contact us at any time. We will always correspond to quality issues of products, so please be relieved.




Toner
Compatible Printer List
Save 10% on below products when you purchase 1 or more G3 electronic cigarette to enter code DDKL5R4J.
Page Yield
G3 original 1.0 ohm coil
Model Number
G3 E Shisha Vape pen Rechargeable Battery
Compatibility List
G3 original 1.2 ohm coil
ELECTRONIC CIGARETTE
five
5 Pack x 10ml Ice Mixing Fruit Flavours E juice