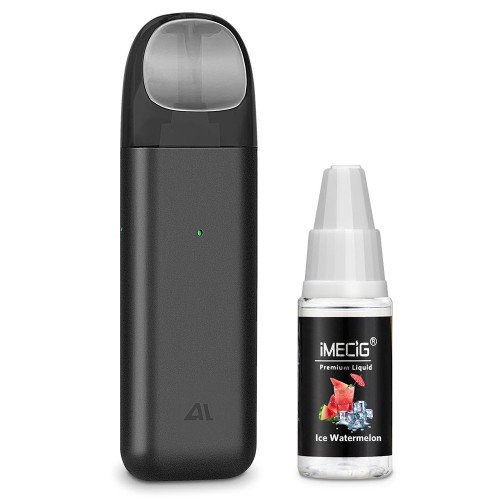 IJOY AI Vape Electronic Cigarettes Starter Kit with Premium Vape Liquid 2 ML Refillable Atomizer Vape 450mAh Rechargeable Battery 10ML Liquid included (Black)
Product Specification :

| | |
| --- | --- |
| Brand: | iMECiG |
| Model Name: | IMECIG AI VAPE BK |
| Availability: | In Stock |
| Compatible Printer List | Save 10% on below products when you purchase 1 or more G3 electronic cigarette to enter code DDKL5R4J. |
| Page Yield | G3 original 1.0 ohm coil |
| Model Number | G3 E Shisha Vape pen Rechargeable Battery |
| Compatibility List | G3 original 1.2 ohm coil |
| five | 5 Pack x 10ml Ice Mixing Fruit Flavours E juice |
---
◆ IJOY AI Latest Vape ◆ This product is an easy-to-operate injection method that can exchange various taste liquids, and is a recyclable liquid type electronic cigarette. Compact, portable, convenient, stylish design brings a sense of luxury.
◆ Unnecessary to use buttons and easy to use ◆ Air operated type switches are mounted so that you can control automatically by turning the power ON / OFF by simply sucking without button operations. Button operation is unnecessary and easier to use. Even beginners can use it comfortably.
◆ Compact and excellent design ◆ ① Built-in 450 mAh battery, USB quick charge function, can extend working time. ② By adopting a visualization tank, you can see the remaining amount of liquid, so there is no worry of breaking the coil. ③ The seal design is adopted for the atomizer part, so there is no worry of leakage.
◆ Affordable set contents ◆ This product will be delivered as a gift for 10ML liquid and easy to hold neck strap, is a great deals. [Set contents] 1x 2ML cartridge · 1x body · 1x 10ML Liquid (Ice watermelon taste) · 1x USB charging cable · 1x neck strap · 1x Japanese operation manual
◆ With secure warranty ◆ If you have any problems or initial malfunctions in this product, please contact directly to the head office. We will promise to respond firmly to replacement, refund and return to the last. We will reply within 24 hours on business day.
Toner
Compatible Printer List
Save 10% on below products when you purchase 1 or more G3 electronic cigarette to enter code DDKL5R4J.
Page Yield
G3 original 1.0 ohm coil
Model Number
G3 E Shisha Vape pen Rechargeable Battery
Compatibility List
G3 original 1.2 ohm coil
ELECTRONIC CIGARETTE
five
5 Pack x 10ml Ice Mixing Fruit Flavours E juice